Home »
Best Lockable Mini-Fridges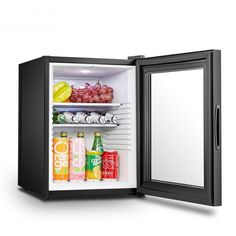 Refrigerators are, without a doubt, essential household appliances. A'mini fridge' is useful when you need something to fit under your work desk or even under your bed; after all, who wants to get out of bed only to fetch a drink?
A tiny fridge may effectively replace large refrigerators. They're popular in regions where a traditional refrigerator isn't feasible to transport or keep. Many people prefer compact refrigerators to large refrigerators in locations where space is at a premium. Dorm rooms, offices, bedrooms, and automobiles such as trucks and vehicles are just a few of the possible locations.
Annual running expenses for the most efficient 4.4-cubic-foot tiny fridge may be as low as $27, according to Consumer Reports research. At the same time, a much bigger 20.6-cubic-foot refrigerator costs just $47 per year.
Compact refrigerators with capacities ranging from 1.7 to 4.4 cubic feet earn an Energy Star certification if they use no more than 239.42 kilowatt-hours per year for manual defrost models and up to 318.4 kWh per year for units with partial automatic defrost. As a result, you will save money there as well.
Mini fridges are excellent "travel companions" because of their small, portable size, which allows you to keep food, drinks, and even some medications that require refrigeration. It will also save you money because you won't have to worry about your items rotting due to temperature changes.
Why is it necessary to have a refrigerator that can be locked?
Consider the case when you have a fridge in your dorm room or even your home. It's a scorching hot day, and you decide that the first thing you'll do when you get home is drink some excellent ice tea. However, you are surprised to see that the refrigerator is absolutely empty! It turns out that your roommate had the last can of ice tea, which is a bit of a bummer, isn't it?
The majority of us who have lived in a dorm or traveled with friends have this small gadget that makes our lives simpler. In recent years, a new function, the capacity to lock the machines, has been added to the already valuable machines.
But, if you have a lockable fridge, you can always lock it; it's not that you don't enjoy sharing, but we all prefer being asked before someone steals our belongings, right?
So having a lock on the fridge just signifies you own the rights to the contents within, but that doesn't mean you can't share them.
Another critical feature of lockable refrigerators is their mobility, making them an excellent companion for group or individual travel. You may not always be able to locate something to drink in the middle of nowhere, but you can always rely on your truck's little fridge.
The lock prevents the door from opening needlessly.
Here's a list of the finest small fridges with locks; after all, I know you don't enjoy sharing your food (like Joey), so a lock is a crucial filter to apply to this list of items.
The product's advantages and disadvantages are based on product reviews on a variety of popular websites.
So let's get started with the list, which will offer you a quick rundown of the product's features, benefits, and drawbacks, as well as why you should buy it.
No.1 ENERGY STAR WHYNTER CUF 110B
The Whynter 1.1 cu. ft. upright freezer may be used in the kitchen, offices, garages, and basements and is ideal for any little location where cold storage is required.
The Whynter 1.1 cu. ft. standup freezer has a black reversible-swing door, temperature control, and a lock to keep the contents secure.
This model is the best mini fridge for dormitories and college students since it is affordable, includes a lock and key and is small.
Dimensions: 17.7 x 18.5 x 19.5 inches weight: 36 pound
Features:
Cylinder door lock with reversible door
Design that is compact
Star-rating for energy efficiency
| | |
| --- | --- |
| PROS | CONS |
| Uses less energy than a bulb! | Heavy |
| Low noise level, won't be disturbing your sleep. | Needs constant running |
| Reversible swing door | |
| Mechanical temperature control (-10? to 2? F). | |
Why would I choose this option?
Whynter's CUF 110 compact fridge is one of their best-selling models.
It's one of the tiniest portable mini fridges on the market, and it's also highly energy-efficient, so it'll save you money. When closed, the door action is extremely nicely crafted and remains secure. There's also a recessed handle and a removable wire shelf for added convenience.
Mechanical heat control and manual defrost are included in this freezer. It can maintain constant temperatures, so you don't have to worry about your perishables spoiling.
If you're a college student like myself, I'd recommend it because it's affordable and comes with a lock and key.
What prevents me from taking the plunge?
Nothing really, it's a terrific deal because it offers effective cooling and is also reasonably priced. However, due to its size, it may drop in the rankings if a similar product emerges.
The storage capacity is a tad lower than anticipated.
No.2 Whynter CUF-210SS Upright Freezer with Lock (Energy Star)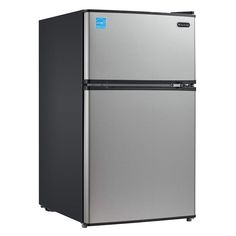 The CUF 210SS, which is quite similar to the Whynter 110 B, follows the Whynter 110 B. The Whynter CUF-210SS is a 2.1 cubic foot model with an attractive silver finish. This standup freezer is an Energy Star-rated device that can help you save money on electricity while delivering effective freezing options.
There's also the flush back option. Unlike other refrigerators, it may be placed anywhere and does not require any clearance from the rear wall. It will blend in nicely with your walls and corners. I didn't have to worry about space because I could put my Whynter wherever I pleased.
The Whynter 2.1 cu. ft. upright freezer is a focus of any area, whether it's for the workplace, the boat, or the house.
Dimensions: 27.5 x 17.5 x 20 inches in size Weight : 46 pound
Features:
A door that can be opened and closed both ways
Door lock with cylinders
Star-rating for energy efficiency
| | |
| --- | --- |
| PROS | CONS |
| Adjustable thermostat | Customer service unreliable |
| Removable shelves | Faulty freezer |
| Flush back | |
Why would I choose this option?
The changeable thermostat, which allows you to convert the fridge to a freezer at any moment, is the most appealing feature of this refrigerator. I appreciate that it opens from the front, so you don't have to dig into the bottom to get what you're looking for.
It's also really silent. The detachable shelves may be rearranged in a variety of ways to suit your belongings without squishing them.
-2 to -10 degrees Fahrenheit is the temperature range.
You just change the temperature, and your fridge is now capable of keeping frozen products. You are ready to host a party, whether at your hostel or at home.
What keeps me from taking the plunge?
Don't expect it to last much longer than the guarantee period. There have been instances of the device failing after a few years and troubles with the return procedure.
No.3 Danby 120 Can Stainless Steel Beverage Center
The Danby DBC120BLS 3.3 cubic feet beverage center is the ideal buddy with those significant athletic events.
When friends and relatives drop by, it's usually a good idea to have some cool beverages on hand to serve while watching a game or simply enjoying the company.
This beverage center will be a terrific asset no matter what event keeps those attendees around. With a storage capacity of 120 cans, you'll never run out of ice-cold beverages.
33.7 x 17.87 x 19.75 inches in size Weight: 68.9 lbs.
FEATURES:
Stainless steel trim on a tempered glass door
Thermostat mechanical
Light in the interior
| | |
| --- | --- |
| PROS | CONS |
| 120 cans storage! | Too noisy |
| Sleek design | Poor temperature control |
| Energy efficient | |
Why would I choose this option?
This device comes in a stylish black and polished finish and is close to becoming the ultimate tiny fridge. With a capacity of 120 cans, you'll never run out of cool beverages while the games are on.
It features an adjustable door, which means you may move it to the right or left, depending on your preference.
The lovely blue LED lights to add to the attractiveness of the piece.
Thanks to the lock on the door, the mini-fridge is safe, so you won't have to worry about someone getting their paws on your belongings.
The stainless steel trim and tempered glass door give an exquisite touch to any design.
What prevents me from taking the plunge?
Temperatures below 50 degrees Fahrenheit are challenging to achieve, and customer service lacks. Overheating of the outside body panels can also occur, which can be harmful.
It's also deafening, so I wouldn't recommend it for locations where perfect stillness is necessary, such as hospitals or bedrooms. Minor changes are necessary for more excellent performance, resulting in increased costs and undesired outcomes.
The light is controlled by a switch on the interior of the device (not designed to come on and off while opening the fridge)
No.4 EdgeStar Lockable Fridge Freezer
The EdgeStar Compact Fridge/Freezer is ideal for use at home or in the office. With the EdgeStar 1.1 Cu. Ft. Stainless Steel Freezer w/ Lock, you can keep your food fresh and frozen.
This stainless steel convertible freezer is one of the smallest zero-degree freezers on the market, making it ideal for storage and placement in tiny spaces such as the kitchen, gaming room, office, or dorm room.
Its wide-range thermostat, which allows you to use it as a refrigerator or freezer, is what truly sets it apart.
Dimensions: 17.8 x 18.5 x 19.2 inches in size weight : 42 pound
Features:
Swing doors that can be opened in both directions
A refined appearance
Low-power consumption
| | |
| --- | --- |
| PROS | CONS |
| Full range thermostat | Poor temperature control |
| Compact | Instruction manual not precise |
| Low noise levels | Condensates constantly |
Why would I choose this option?
It may be modest compared to the other goods on the list, but it is no less effective in terms of cooling than its competitors. This machine freezes rapidly, uses little electricity, and is exceptionally well insulated and silent.
You may chill your beverages or convert them into ice by turning the dial on the full range thermostat. The range of adjustment is zero to forty degrees.
It's a good deal to consider if you want to be energy efficient yet have enough cooling capacity. When relocating, it is simple to load and unload.
What prevents me from taking the plunge?
Because of the profound temperature changes are not appropriate for storing perishable commodities such as milk, meat, eggs, and many more.
It rains condensation all the time. It makes no difference whether it is opened regularly or not. It simply keeps dripping off the top. Everything within may become soaked as a result of this.
No.5 Haier Lockable 150-Can Beverage Cooler
This elegant beverage center can hold up to 150 cans. You can see what's available and organize it any way you like with the glass door and flexible shelves.
It features an appealing design that includes a reversible glass door with a recessed handle. The adjustable thermostat also ensures that the content is cooled correctly, while the lock/key keeps it secure.
Weight: 72.5 pounds Dimensions: 21.2 x 20.5 x 31.4 inches
Features:
The lower rack is detachable
A thermostat that can be adjusted
The glass door that can be opened both ways
| | |
| --- | --- |
| PROS | CONS |
| Capacity -150 can of 12 ounces | Insufficient cooling |
| Removable lower rack | Prone to leakage |
Why would I want to do this?
A sleek glass door finish would be ideal for blending into your workspace. You may put it in the corner of your garage or even in your gaming area so that your buddies can quench their thirst with some cooled beers or juices when they're thirsty.
Inside is a beautiful blue LED light? The light on the device's interior may be conveniently switched on and off.
What keeps me from taking the plunge?
I discovered that this refrigerator does not chill below 50 degrees Fahrenheit, which is disappointing considering the primary purpose for purchasing it was to keep your beverages cool. Customer service is also lacking.
In rare circumstances, the leakage might be an issue.
No.6 Danby DAR044A6DDB Compact Refrigerator with Lock, Contemporary Classic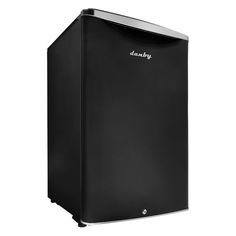 Danby's patented Contemporary Classic range of small refrigerators re-imagine vintage for the modern consumer, drawing influence from mid-century style and simplicity.
Its outside elements are only matched by its trademark interior, which boasts Danby's exclusive retro-inspired curving door design, a range of metallic door finishes, a rubber-grip ergonomic handle, and a stylish countertop.
This one, in my opinion, is for individuals who are more concerned with their appearance than with everything else.
Dimensions: 21.3 x 20.75 x 33.07 inches in size weight : 65 pound
Features:
Defrost is done automatically.
Star-rating for energy efficiency
Shelves made of glass
| | |
| --- | --- |
| PROS | CONS |
| Retro design | ·Noisy |
| | ·Unable to maintain steady temperature |
Why would I choose this option?
Nothing except its design is appealing, especially to those who enjoy old styles.
The interior is bright and airy, with these fabulous, functional soda can/bottle racks on the entrance.
Clear trays prevent items from being misplaced or forgotten. The bottom tray can be lifted to the top of the refrigerator to accommodate more oversized items!
All of the shelves are movable so that you can get the most out of your refrigerator.
Your belongings will be stored on two full-width glass shelves and one half-width glass shelf.
Suppose you're worried about the environment, like me. In that case, you'll like this refrigerator since it employs a new eco-friendly refrigerant, making it the ideal tiny fridge for those of us who care about the environment.
Why am I hesitant to take the plunge?
It is not suitable for preserving meat goods since it swings too much in temperature. If you need to preserve something that is susceptible to cold or spoils quickly, I do not suggest this product.
It's not chilly enough, and it's a little loud.
No.7 UF-150W Freezer by Sunpentown
Sunpentown UF-150SS Stainless Upright Freezer, 1.1 cu. ft. The Compact, flush-back design provides 1.1 cu. ft. of storage, making it ideal for use on a counter. The adjustable thermostat has a temperature range of 0°F to 32°F. All included a reversible door, lock and key, and one detachable wire shelf.
The manual defrost mechanism is also favorable when it comes to energy savings. Now you can easily and quickly get rid of that bothersome ice that is taking up extra space.
Dimensions: 18.5 x 17.8 x 19.5 inches in size weight : 41.4 pound
Features:
Design with a flush back to save space
Black cabinet with stainless steel door
Defrost by hand
| | |
| --- | --- |
| PROS | CONS |
| Front leveling legs | ·Noisy |
| Auto shut off | Recessed handle makes it difficult to open |
Why would I want to do this?
Sunpentown UF -150 is a fantastic value, especially for freezing meals. The surface quality is definitely a work of beauty, and the stainless steel body adds sturdiness.
It's an under-counter mini-fridge, which means it'll fit beneath a typical kitchen counter, saving even more room than the other mini-fridges on this list.
Another feature that I enjoy about the freezer/fridge is the ability to use it as a freezer. The machine has a mechanism that automatically shuts off. Basically, while you're using it as an ice maker, you don't have to worry about babysitting the fridge or turning it off.
Why am I hesitant to take the plunge?
The appliance does not function quietly; it sounds like a woodpecker lives within. If you don't keep it on solid ground, it'll emit a noise that sounds like the freezer is about to blow up!
No.8 Ivation Wine Cooler/Chiller, 18 Bottle Thermoelectric
The Ivation Wine Cooler preserves your wine at the optimum temperature and in a stable environment, shielding it from outside light and elements. It is designed to have minimal vibration, allowing it to mature and store correctly.
It allows it to maintain and develop its exquisite taste, color, and aroma with the best mouthfeel, body, palate, and finish, providing you the most outstanding and tastiest wine: Full, Rich, Supple Smooth, Round, and Balanced.
Dimensions: 26.4 x 22.4 x 15.3 inch Weight: 39.2 lbs.
Features:
Thermoelectric cooling that works
Smoked tempered glass door
LCD display and touch controllers
| | |
| --- | --- |
| PROS |             CONS |
| Humidity control | ·    product life reduces if kept in places with extreme conditions ex: garage |
| Low noise levels | ·            Improper temperature control |
| External display | |
Why would I choose this option?
Suppose you're searching for a fridge that can keep wine while also allowing it to mature without losing its flavor and aroma. In that case, the Ivation Wine Cooler is the one for you.
Another item that attracted my attention was the refrigerator's silent operation; it's almost as if it's not even there!
I liked how it was polyurethane insulated on the inside and had Thermopane glass on the door. It protects the cork in your wine bottles from rotting, and the door shields your precious drinks from damaging UV rays.
What prevents me from taking the plunge?
The temperature within the cooler does not stay steady. The lowest temperature in an Ivation wine cooler is roughly 50 degrees Fahrenheit, which is ideal for white wine. It's not a good idea to drink white wine with it.
It may not be able to hold as many bottles as it claims; therefore, I'd prefer to go with a lower quantity. Your 18 Bordeaux-style wine bottles are too small for this chilling wine device. It will not fit if you have Burgundy-style bottles.
No.9 hOmelabs Compact Upright Freezer – 1.1 Cubic Feet
This 1.1 cubic foot freestanding mini freezer is the ideal size for keeping your favorite foods frozen while taking up less room in your college dorm, apartment, garage, or business. When you need 'a ready to eat' supper or to fulfill a need, this is the dish to make.
This electric freezer has a robust, detachable slide-out wire shelf with a sophisticated white painted finish for clutter-free storage and quick access to your food.
Dimensions: 17.5 x 18.3 x 19.8inches Weight: 31.3 pound
Features:
There are seven different temperature settings.
A compressor that runs quietly
| | |
| --- | --- |
| PROS | CONS |
| Energy efficient | Manual defrost needed |
| Low noise levels | |
Why would I choose this option?
It only consumes 240 kWh per year or $29 in energy costs. It operates quietly at less than 42 decibels, making it ideal for nurseries, hospitals, and other quiet environments.
From -20°C to -14°C (-4°F to 6.8°F), there are seven temperature settings: "1" is the hottest and "7" is the coldest. Snacks, ice cream, drinks, and ice cubes can all be kept in this container.
What prevents me from taking the plunge?
Although this product does not have many unfavorable reviews, I would not recommend it because it is a newbie to the market. For a reason, the older firms are well-known and dependable.
No.10 SMAD Mini Refrigerator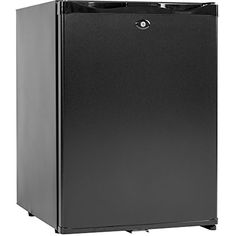 This refrigerator is an absorption refrigerator, which differs from thermometric and compressive-evaporative refrigerators. It employs a heat source (electric or propane) to fuel an intelligent expansion and cooling process within its pipes. Thermoelectric cooling is more efficient than absorption cooling, although compressor cooling is less efficient. It's okay to use it in regions where the temperature is less than 90 degrees Fahrenheit.
This mini-fridge is compact enough to fit into the smallest of spaces. At the same time, it is quieter than a traditional freezer. As a result, it's a beautiful option to consider and utilize in tight spaces where you don't want to produce any noise.
Dimensions: 15.8 x 17.3 x 22.1 inches in size Weight: 34.2 pound
Features:
Door hinge that may be used in both directions
Two extension cords
Adjustable door holder
| | |
| --- | --- |
| PROS |         CONS |
| AC / DC power options | ·        Insufficient cooling |
| Low noise levels | ·        Improper delivery of product, many reports of dents |
Why would I choose this option?
The SMAD Mini fridge runs softly because it uses an absorption cooling method. It may be conveniently placed in your bedroom or office to chill your favorite beverages. It has a reversible door that can be locked and unlocked.
I loved that it had a DC and AC power cord, allowing it to be used both indoors and outside. Under 65-90°F ambient air temperature, this refrigerator can reach 21-50°F.
What keeps me from taking the plunge?
If you prefer ice-cold beverages, I wouldn't suggest this product. However, several reviews claim that it doesn't cool very effectively, owing to the environment. Because it is an absorption cooling system, it may not be suited for summers with temperatures over 100 degrees Fahrenheit.
CONCLUSION
There are numerous good-quality mini-refrigerators on the market. Still, I've compiled a list of the ones that have been trusted for years.
Depending on your budget, I recommend sticking to the tried and true. Although a Whytner or Edgestar small fridge will cost more, it is advised not to go cheap if you are searching for a long-term solution.
Isn't it preferable not to have regrets?
Of course, there are some newcomers on the market, such as the hOmelabs 1.1. Still, unless you have much money to spare, I would always go with recognized brands like Whynter and Danby.
Edgestar is a fantastic choice for hostels and dormitories because of its low noise levels and energy efficiency.
However, choose Whynter goods for your houses or garages; you may pick a suitable model based on the size required.
Danby products are very dependable, and the Danby 120 can beverage cooler is compact enough to fit in a small store or even your home.