Home »
11 Best Ways To Use A Food Processor In An Indian Kitchen and Cooking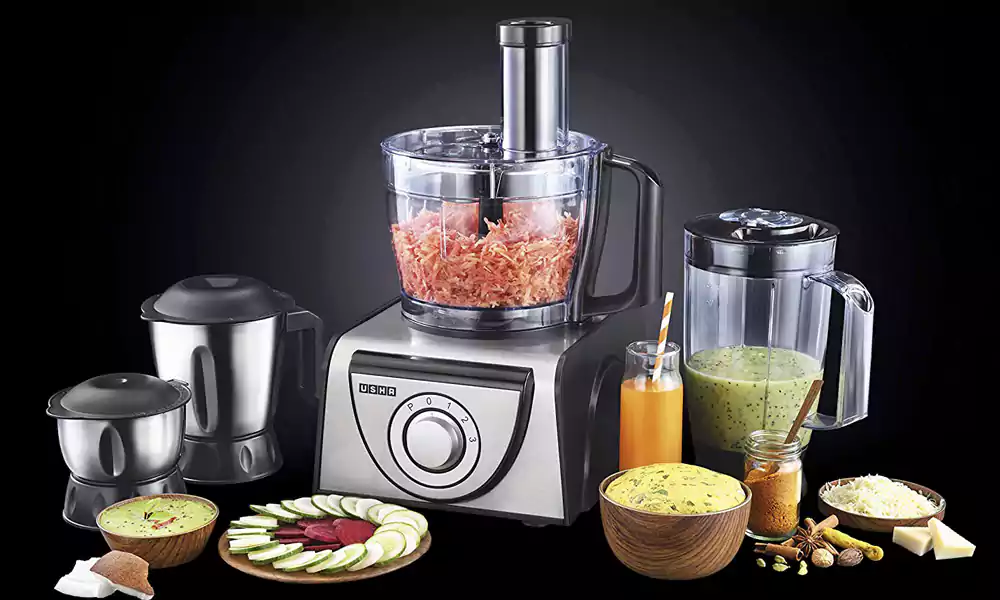 The food processor is a must-have in our kitchen and I adore Indian cuisine. Still, it occurred to me that I'd never looked into the benefits of a food processor in Indian cooking. So I decided to look into it.
If you enjoy Indian cuisine, a food processor is an excellent addition. Grinding meat, creating chutney, cutting nuts, whole spices, or coconut flakes, puréeing sauces, and even kneading dough for naan, chapati, roti, or paratha are all things that can be done in the kitchen. You'll soon wonder how you ever managed without one of these incredible gadgets!
But there's a lot more to learn about food processors and Indian cuisine, so keep reading!
What is the use of a food processor in Indian cooking?
I am a huge fan of Indian cuisine and culture. That fanship most likely began when my mother brought me a sitar during a visit to my brother in India when I was a teenager. I also enjoy cooking.
You're missing out if you enjoy cooking and Indian cuisine but don't own a food processor! Even if you don't enjoy cooking, a food processor is worth investing in because it will help you get in and out of the kitchen faster.
Even if you have an ancient Cuisinart food processor stashed somewhere beneath the counter, you may not be aware of its full capabilities.
After all, a food processor can do the following:
Blend – ideal for korma, saag, masala, and other Indian sauces.
Chop — useful for chopping nuts or coconut chunks for chutneys.
Grate — useful for finely chopping nuts, coconut, onions, and garlic.
Mix - excellent for combining complicated sauces or dry spice blends such as garam masala, as well as churning butter to make ghee.
Make bread dough, which can be used to make naan or chapati bread.
Soups puréed - combine lentils and vegetables in a blender until smooth or lumpy.
It isn't the tiniest kitchen appliance in your arsenal. Still, it can easily replace a number of other small kitchen appliances you have on hand (immersion blender, counter blender, cheese grater, etc.)
In a nutshell, learn to know your food processor whenever you need to mix, blend, fold, chop, or combine ingredients in any way.
We'll go over some more helpful information further down, but first, let's look at…
11 Ingenious Ways to Use a Food Processor for Indian Cuisine
1) Bread dough for naan (recipe below)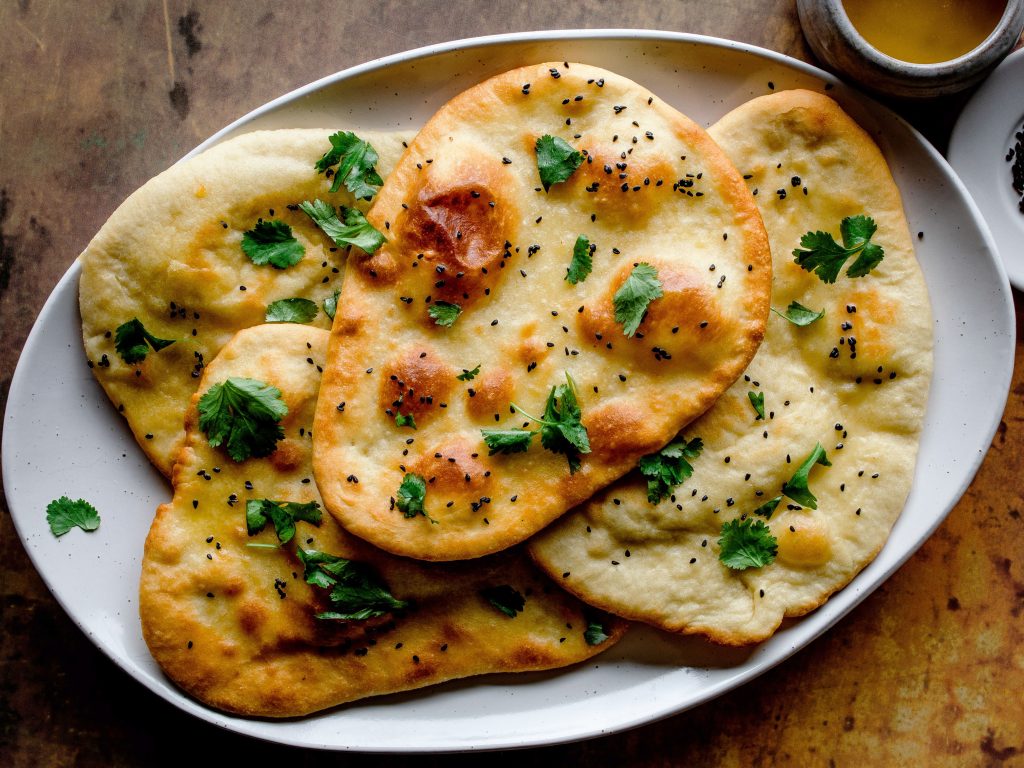 Whether it's naan, chapati, roti, paratha, or any other type of bread, Indian bread is essential for Indian cuisine and cooking. You'll be surprised at how simple it is to prepare your own bread dough in a food processor. I've included a fantastic recipe below.
2) Chutneys with tamarind and mint/cilantro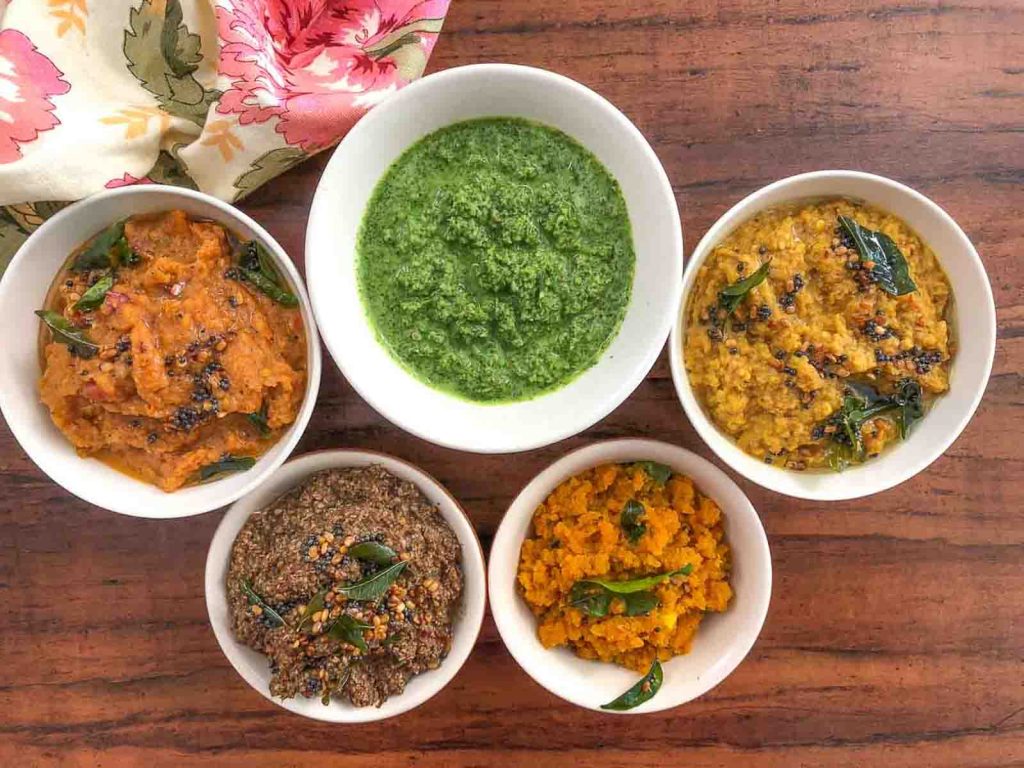 I like to use chutneys as a condiment or even to season salad greens. Tamarind chutney is a dark-brown, raisin-like chutney that is widely used. However, a green chutney, which can be cilantro, mint, or both, is frequently seen.
Puréeing chopped nuts and coconut flakes in a food processor, along with some plain yogurt and water, makes making your own chutneys quick and easy!
3) Kofta preparation (meatballs, often vegetarian)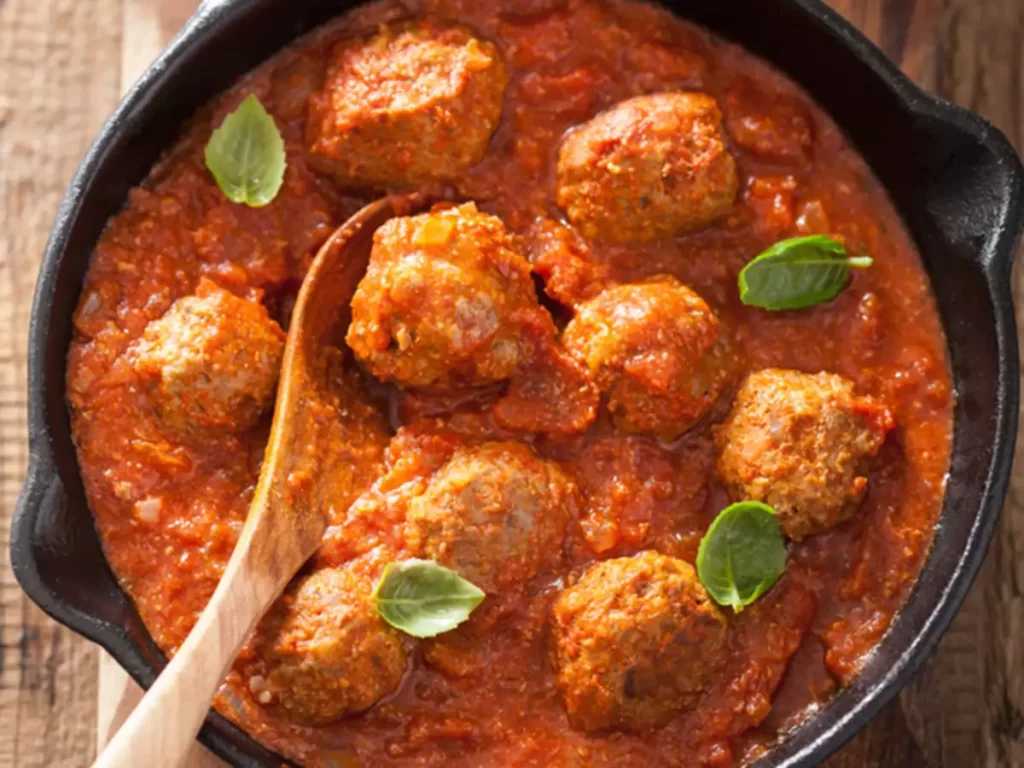 You can find lamb or chicken kofta all over the Middle East.
On the other hand, Koftas are frequently vegetarian in India, though not always. Blending potato and paneer cheese, cornstarch, and ground cashews are the most frequently used technique for producing these vegetarian meatballs.
So combine everything together in your food processor and then form them into meatballs and fry.
4) Making ghee by churning butter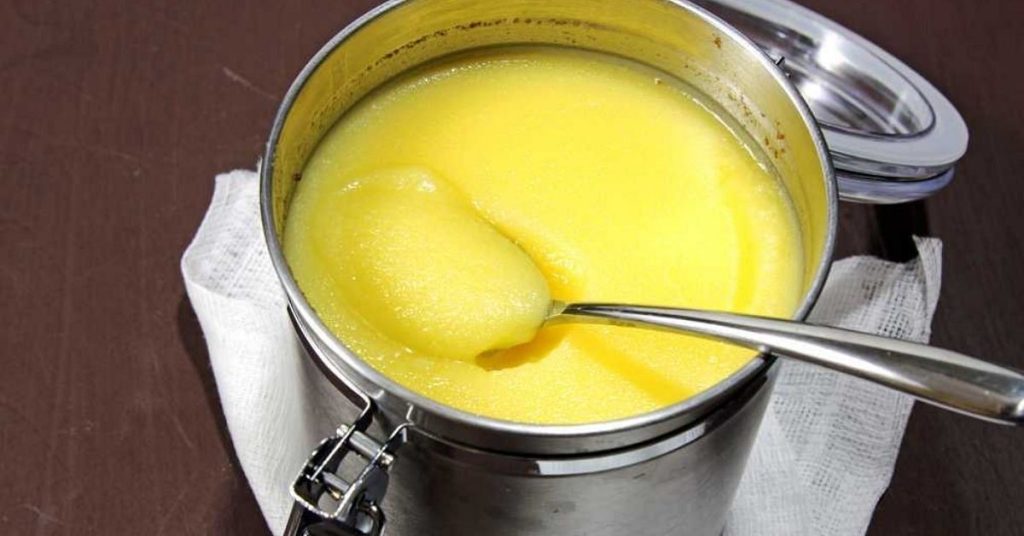 Ghee is just clarified butter and it is the foundation of Indian cuisine.
While you can buy ghee (typically not refrigerated) at the grocery store, it's usually quite pricey. Make your own instead! Pour heavy cream into a food processor (adding a pinch of salt if desired) and process for around 10 minutes.
Then, to produce ghee, cook the butter for about 15 minutes over low heat, either in the oven or on the stovetop. It will foam, bubble, and then foam again, and then it will be done, generally around the 15-minute mark.
Allow draining through a strainer or cheesecloth to remove any particles, then allow to firm before using. Refrigerate for a longer shelf life; however, it will last a month at room temperature.
5) Chopping spinach finely for Saag Paneer
When we go to our favorite Indian restaurant in Austin, my daughter's favorite dish is usually saag paneer (Asiana). It's essentially a spinach cream sauce with huge chunks of paneer cheese suspended in it. Many recipes call for frozen spinach, but you can purée it in your food processor until smooth, whether you use frozen or fresh spinach.
Then you cook with onion, garlic, freshly grated ginger, and perhaps a pinch of chile for heat before adding the spinach and a few critical spices like cumin and coriander. In the end, plain yogurt gives the spinach a creamy texture.
6) Making a sauce base with onion and tomato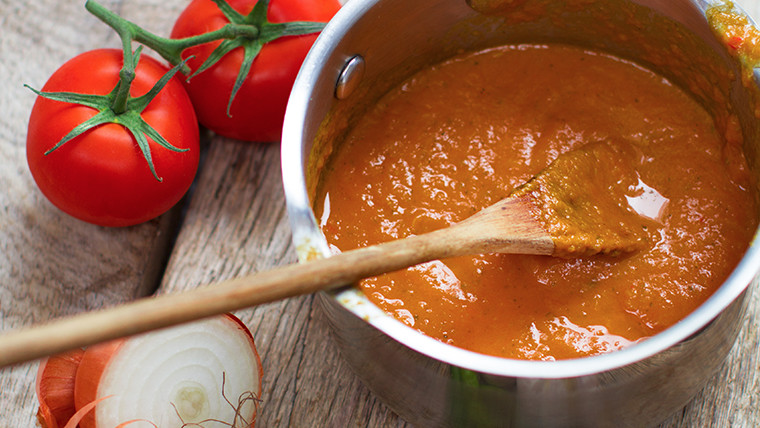 MANY Indian sauces and curries begin with a base of blended onion and tomato.
It's as simple as putting them in a food processor and mixing until you achieve the smooth consistency you want! Many Indian recipes don't call for garlic for whatever reason. Still, I love it and use it in practically everything, so add a couple of cloves if you do, too.
7) Peeling and dicing potatoes, okra, and other vegetables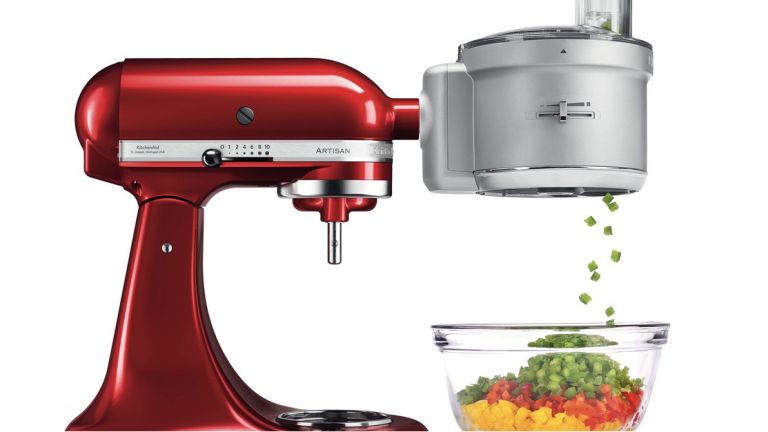 The dicing blade isn't suitable for many vegetables (carrots, for example). Still, it's ideal for potatoes, long beans, and okra, the usage of which is made in a number of Indian dishes extensively.
8) Make your own curry paste at home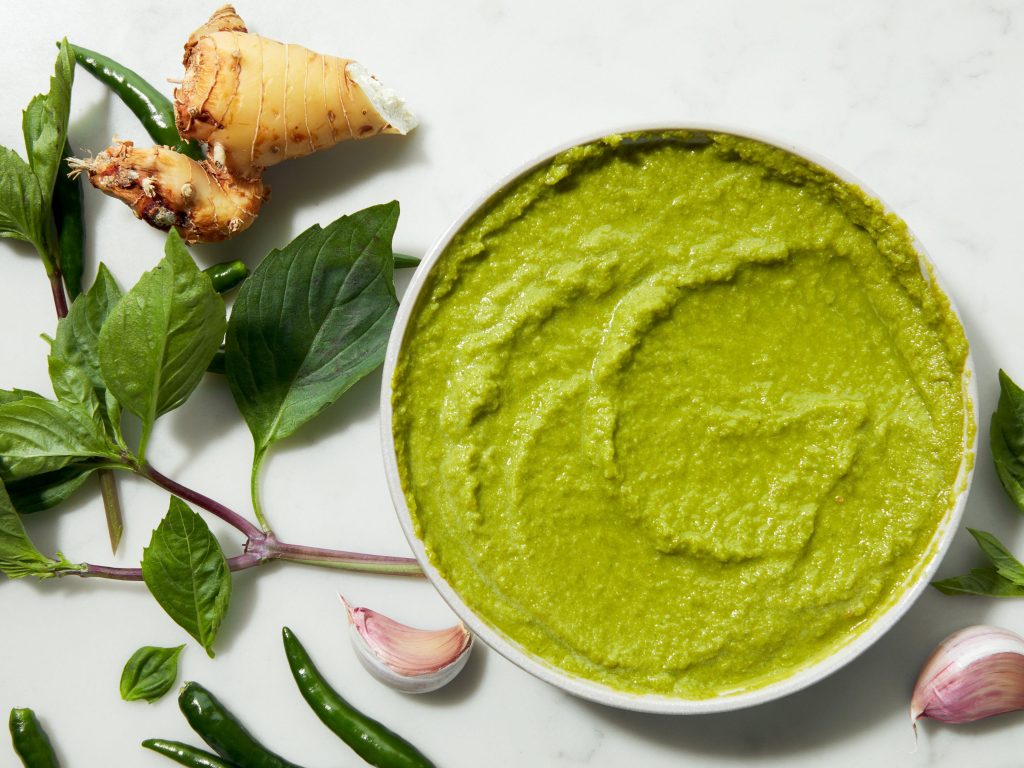 In your food processor, swiftly and efficiently make your own curry paste for Indian cuisine.
While there are many different types of Indian curry pastes, many of them have onion, tomato, ginger, and garlic as their base. So start by blending them all together and seasoning them with spices like turmeric, cumin, and coriander.
9) Make delectable homemade soups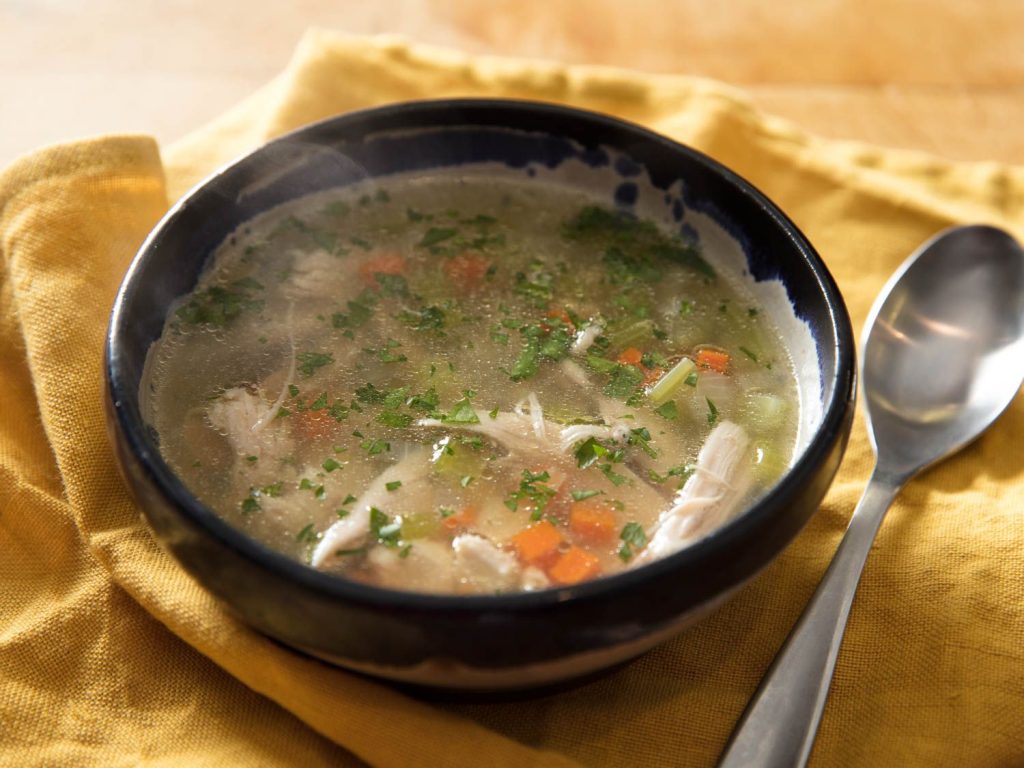 Doug, one of my friends, is a massive fan of Indian soups. I'm a bit odd in that I only eat soup when it's freezing outside. However, Indian food provides us with some fantastic Indian soups.
As a basis, many people use cooked lentils or garbanzo beans. You may also hear the term Shorba, which is a catch-all term used throughout the Middle East to refer to a number of soups.
Mulligatawny is probably the most well-known form of Indian soup, thanks in part to changes made by the British during their occupation of India. However, blending in your food processor is a breeze no matter the base for your Indian soup recipes!
10) Make your own garam masala spice blend at home
Garam masala is a spice blend that is widely used in Indian cuisine. It's usually (but not always) sprinkled on top of a finished food rather than being cooked with it throughout.
Toasted entire coriander, cumin, fennel, cardamom seeds, whole cloves, a little quantity of nutmeg, and peppercorns are commonly used to begin.
If you want to make it spicier, add a little chili powder. In a dry skillet over low heat, toast the nuts. I wouldn't toast anything that has ground spices; instead, I'd toast the complete pieces. Then put it in a food processor and process until smooth. This works best with a large batch in a larger food processor. You might also use a clean coffee blade grinder.
11) An easy technique to mince ginger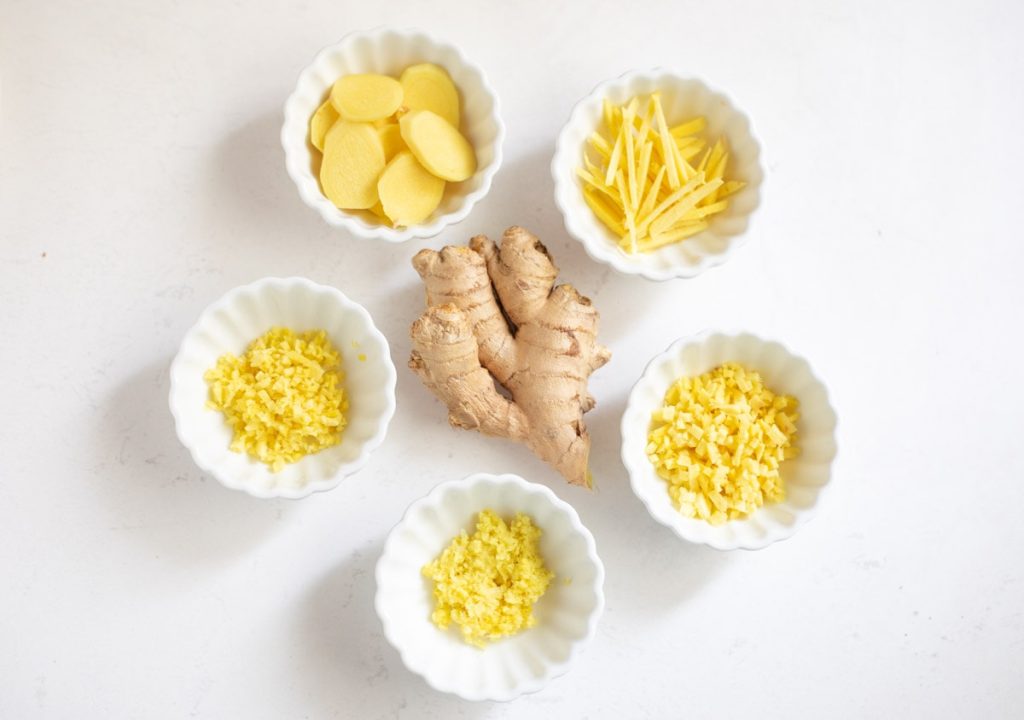 In Indian cuisine, ginger is a must-have ingredient. However, it is notoriously difficult to work with! It's challenging and stringy, and even when using a grater, you'll end up with more long strings of ginger on the greater than in your pile of grated ginger.
So, when you've peeled your ginger, simply place it in your food processor and pulse until it's nicely minced!
So there are a few exciting ways to use a food processor in Indian cooking, but that's just the start! Continue reading to learn more about everything you can accomplish, including Gordan Ramsay's top five Indian cuisines!
What may a food processor be used for?
I covered a lot of the fundamentals above, but I especially enjoy using my food processor for:
For tamales, make a masa.
Dressing for Caesar salad
Cheese grating
Dough for tortillas
Guacamole
Fresh pico de gallo
Then, because we're talking about Indian food here, I particularly like it for:
Chapati dough with chutney
Sauce made for korma
Butter churning (which can then cook down to make ghee)
Preparing kofta (essentially a meatball, but often are vegetarian)
I prefer to pulse my food processor when making chutney.
That is, instead of turning it on and letting the blade cut everything to bits, I switch it on and off manually in a rhythm. It has a chunkier texture as a result of this.
Tomato-based chutneys, cilantro-based chutneys, coconut-based chutneys, mint-based chutneys, and combinations of these chutneys are all popular in India.
While I like my chutney thick, if you like it smoother, don't pulse it; rather, turn it on.
When creating dough, you usually remove the blade attachment and replace it with the paddle attachment. The only difference is that the paddle isn't as pointy. As a result, it does not cut but instead blends. Add your ingredients and turn it on until everything is well combined for any type of meatball. Then take them out and roll them into small balls by hand and they're ready to cook. Finally, you may be surprised to learn that you can churn butter in your food processor!
Is there a difference between a food chopper and a food processor?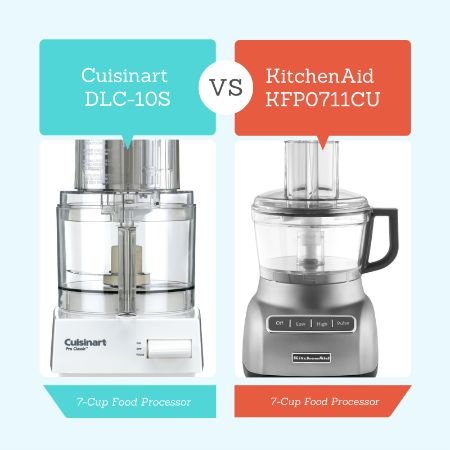 It's like questioning whether a bicycle and a motorcycle are the same things.
They may have a similar appearance and perform some comparable functions, yet they are vastly different in many aspects.
A food chopper can be a manual (non-electric) chopper that you use to chop vegetables by repeatedly pressing down on it. However, it can also refer to a small electric food chopper that does the same function. The food chopper isn't powerful enough to mix, blend, or purée in either situation. Do garlic, onions, or carrots need to be coarsely chopped? That's when a food chopper comes in handy. But a food chopper can only do so much.
A food processor can do all of this (and much more) and in far more enormous volumes as well. As a result, while a hand chopper is a terrific addition because cleanup is much easier than with a food processor, I believe an electric food chopper is a waste.
Can a food processor be used as a blender?
Yes, in a nutshell, but there are some significant distinctions, so let me explain why I have both in my kitchen. Gravity naturally draws everything down to the bottom, where the blades are, in a blender, which is tall and slim. In contrast, a food processor is a broader appliance and more spread out, and it has a bigger blade as well. A blender is ideal for soft meals like smoothies and milkshakes. In fact, it performs better than a food processor in such situations. A food processor is also not a good choice for puréeing tiny amounts because the ingredients have too many different places to move, preventing them from mixing smoothly.
If you need to crush nuts, prepare the dough, cut vegetables, or grate cheese, you've come to the right place. Here, the only choice is to use a food processor.
Your blender, on the other hand, is the king of:
Soup puréeing
Smoothie making
Making a milkshake
Creating unique cocktails
Finally, while both have a spinning blade, they are designed for different purposes. They can both be found among your small kitchen gadgets.
In a food processor, you can make Indian chutney
I adore Indian cuisine, particularly the variety of chutneys available.
If you're unfamiliar with chutney, it's a slightly chunky sauce used as a condiment. It is frequently acidic, occasionally spicy, and occasionally sweet.
A tamarind chutney (dark brown) and mint and cilantro chutney are the most frequent at Indian restaurants in the United States. Tomato, mango, onion, and other fruits and vegetables are also present.
Here's a simple mint-cilantro chutney recipe that I really like:
1 cup fresh cilantro leaves (optional)
1 cup mint leaves, fresh
1-2 serrano or jalapeño chilies, stem removed (optional; remove seeds for a milder version)
1/2 inch peeled fresh ginger
1/4 cup almonds or flakes of coconut
a quarter-cup of lemon juice
One teaspoon of powdered cumin
season with salt and pepper to taste
3 – 4 tbsp. water
Begin by coarsely chopping the almonds or coconut flakes, ginger, and chilies, if using, in your food processor with the blade attachment. Then, with the processor running, add the mint and cilantro and process until smooth.
Except for the water, combine the remaining ingredients. Begin to pulse while slowly pouring the water down the chute until the sauce reaches a sauce consistency that is neither too runny nor too thick.
You can use either mint or cilantro, eliminate the chilies entirely, and make a creamier chutney by adding plain unsweetened yogurt. Experiment to discover how many tasty versions you can come up with!
Is it possible to bake Indian food in a food processor?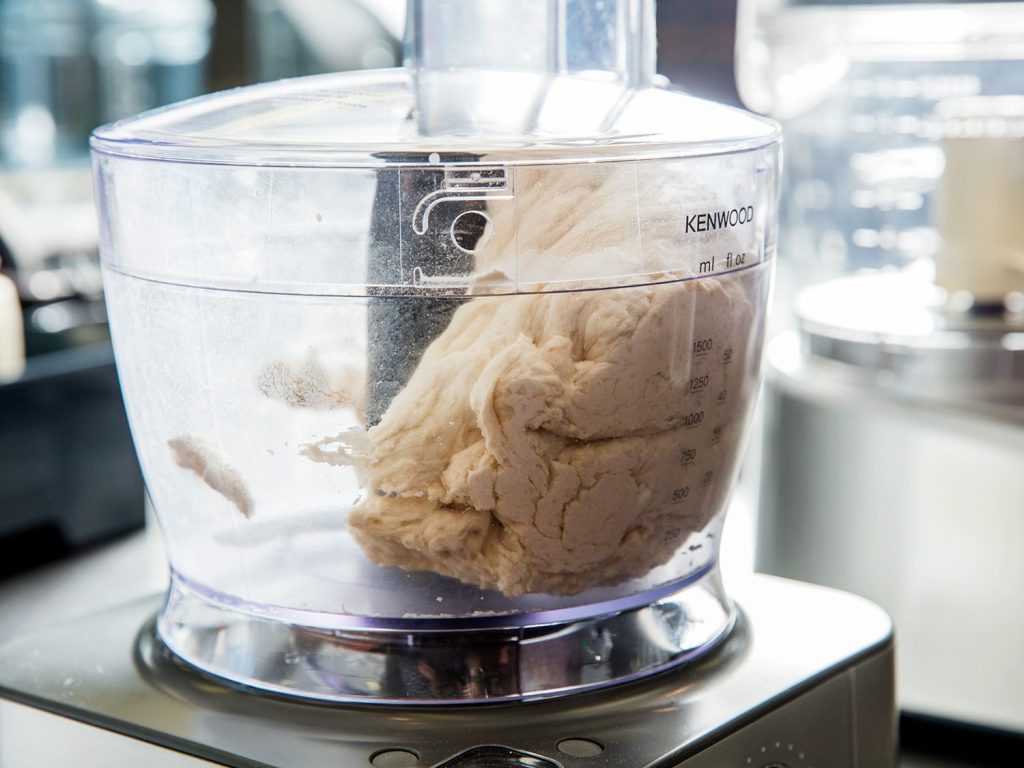 Most people think of a mixer when they think of a tiny kitchen gadget for baking, either a hand mixer or a large Kitchen Aid mixer.
In terms of baking, though, a food processor can accomplish a lot.
To begin with, it's excellent for producing any type of dough. Chapati, paratha, roti, or naan are examples of Indian bread. However, you can produce corn masa for tortillas or tamales, flour tortilla dough, or bread dough.
Instead of using the blade, use the paddle attachment to make dough. Beyond that, it's ideal for making cake batter, where you'd usually add all of your ingredients and blend (using the blade).
Yes, a food processor is fantastic for baking, and it's also great for preparing pastry dough.
In a food processor, create Indian naan bread dough
While my blog isn't about recipes, I do want you to know how to utilize a food processor for Indian cooking.
Naan, chapati, roti, and paratha are some of the most popular Indian bread.
Since naan is undoubtedly at the top of that list in the United States, let's go over a short method for making naan bread in your food processor.
Ingredients:
4 1/2 cup flour (all-purpose) (look for unbleached)
One mug of hot water
A quarter cup of melted butter or ghee
One tablespoon of sugar
One beaten egg
milk (three tablespoons)
Two teaspoons of garlic, minced
salt (two tablespoons)
One packet of dried active yeast
Add the yeast packet to the heated water in a mixing dish. Combine the butter, milk, and egg in a separate bowl. Allow the yeast to froth for about ten minutes. Combine the sugar, salt, and flour in a food processor using the dough blade attachment and process until smooth. Slowly pour in the yeast water as it runs. Then add the milk and egg combination. Allow combining thoroughly until a soft dough forms.
Take the dough out of the food processor and set it aside.
Knead the dough on a floured cutting board or counter for 5-8 minutes, or until it is well combined and smooth. The dough should then be rolled into a ball and placed in a big mixing basin that has been sprayed or cleaned with vegetable oil.
Allow sitting for 1 hour away from heat or direct sunshine, covered with a moist kitchen towel. Its volume will be about double.
After one hour, start working on the dough, which will allow it to release some air and shrink slightly in size. Thoroughly mix in the garlic . Make golf ball-sized bits out of the dough. Place each on a cutting board and roll into a smooth ball. Cover with a kitchen towel and leave it to rise for another 30 minutes.
Decide whether you'll cook the naan on a grill, a griddle, or on the stovetop as it rises (ideally on something like a comal as you would cook a tortilla). Pre-heat whatever cooking source you're using.
Do you have any idea what a comal is? I adore mine, and they're perfect for making or reheating Mexican and Indian flatbreads. Check out all of Comal's applications to see whether you really need one in your home!
After 30 minutes, flatten out your naan into discs with a rolling pin (or a tortilla press).
Brush a grill with a bit of oil and cook for 2-3 minutes over high heat until it starts to brown and puff up. Cook for an additional 2-3 minutes on the other side. If you're using a griddle or comal, you'll want to check them more regularly to make sure they don't burn.
Do Indian chefs use food processors?
In my 20+ years at Whole Foods Market, I've worked with a lot of brilliant chefs, including a couple who were Indian, and I can tell you unequivocally that chefs do utilize food processors. In the end, a chef's and cooks' task in a professional kitchen is to provide a significant quantity of delicious food for hungry customers while also ensuring that those customers want to return, tell their friends, and leave excellent reviews.
As a result, practically every chef will want to use instruments that will help them prepare food faster without losing quality.
What is the most satisfactory food processor for Indian cooking?
The term "best" is a highly subjective term.
However, if we're talking about one with the following features:
Extremely powerful
Excellent feedback
Large storage capacity
Alternate blades are fantastic
Excellent warranty
This does assist us in narrowing things down.
Did I answer all of your questions regarding how to utilize a food processor in Indian cooking?
We looked into the world of Indian cuisine in this article.
We only scratched the surface. Still, we did take a careful look at how a food processor may speed up the preparation of Indian food while still producing beautiful results. We learned everything there is to know about using a food processor in Indian cookery. So the next time you're creating tasty chutney, naan bread dough, or a thick korma sauce, don't hesitate to use your food processor!