Home »
Is it Worth It to Buy a Popcorn Machine?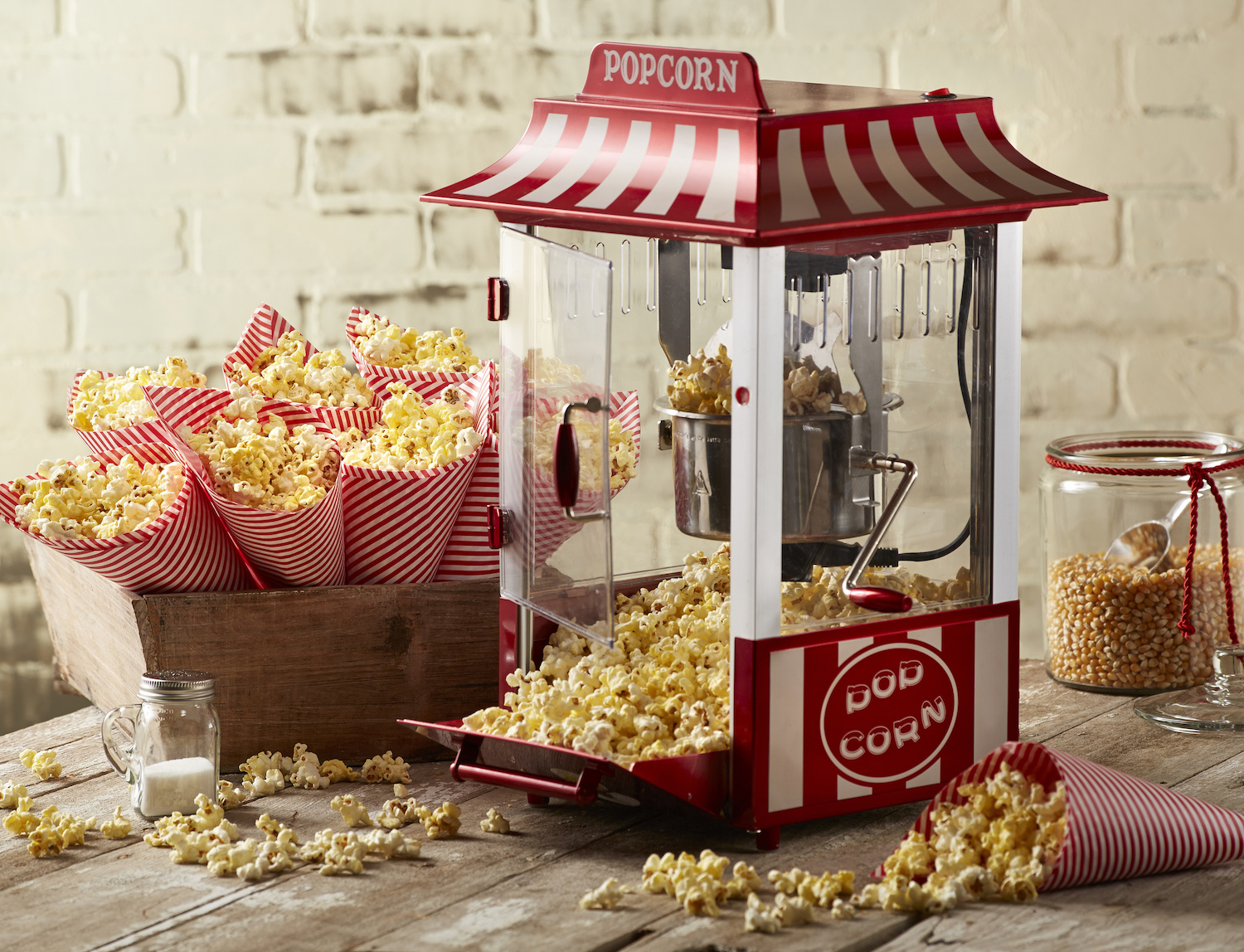 Most of us enjoy popcorn, but let's face it: it's not healthy. Freshly popped popcorn is superior to bagged and microwaved popcorn.
Is a popcorn machine, however, worthwhile?
I decided to look into it, and here's what I found out:
The cost of a popcorn machine starts at roughly $25. The majority include non stick surfaces for simple cleaning and a stirring arm to reduce unpopped kernels, as well as hundreds of near-five-star evaluations. More expensive models offer a traditional movie theatre aesthetic. They are a perfect complement to home theaters due to their larger size and a larger screen. They are, therefore, well worth it for many people!
However, there's a lot more to know about popcorn machines. So let's take a closer look!
We'll delve into the realm of popcorn makers in this article. Yes, a popcorn machine can bring excellent movie theater popcorn into your home.
Are they, however, genuinely worthwhile? What is the price of a popcorn machine? What size popcorn maker do you require? Is it any good compared to microwave popcorn or stove top popcorn?
Continue reading to learn more!
What is the mechanism of a popcorn machine?
Traditional popcorn makers (such as those found in movie theatre) can range in height from 2 to several feet. The height is determined by the volume of popped popcorn and the height of the stand.
It's commonly a transparent box with a metal canister with a heating element inside. In the canister, put the oil and popcorn kernels.
The oil heats up to 400 to 600 degrees Fahrenheit when the heating element is turned on. The popcorn then starts to pop out of the metal canister and into the box, ultimately filling it up and overflowing into the clear box that surrounds the heating can.
Air-popped popcorn is a healthier alternative to oil-popped popcorn.
It doesn't have any oil in it at all. Instead of using oil to pop the kernels, the air popper employs a fan to blast air over the heating element. The popcorn then fills the clear box with popcorn, just like a typical popcorn machine.
You can even use your air fryer if you don't care about the aesthetics of a popcorn machine but want air-popped popcorn.
Simply heat your air fryer to 390 degrees Fahrenheit and add your popcorn kernels. You can spritz them with avocado or coconut oil if you wish, but it's not required. You'll enjoy freshly popped popcorn in 15 minutes with minimal mess.
In reality, your air fryer can handle a wide range of cooking tasks.
When buying a popcorn machine, what should I check for?
Nothing like natural movie theatre popcorn for completing the movie-going experience. Popcorn is one of the most popular snacks on the planet, so it's no wonder.
The aesthetics of owning a popcorn machine are essential. It's one of the reasons why owning a popcorn machine is so enticing.
Whether you care about appearances or not, there are a few basic things to look for.
Cleaning is simple: You're not likely to use your machine very often if it's difficult to clean. You'll want to use a machine as much as possible if you're going to spend the money on it.
Stirring mechanism: Your machine should have a stirring mechanism of some type. The majority of the kernels will be popped this way, and popcorn that hasn't been popped is a no-no.
Surfaces that are nonstick: Cleanup will be a pleasure if the kettle and warming plate is nonstick.
What size popcorn machine do I require?
The size of the machine is determined by the number of people you'll be serving. Still, a 4-ounce machine will comfortably serve four or five people. You can always pop numerous batches if you have a larger crowd. An 8-ounce machine might be a better alternative if you're willing to invest the money and don't want to pop many batches.
Is fresh-popped popcorn superior to microwave or packaged popcorn?
Yes. Suppose you've ever gone to a movie theatre or a baseball game. In that case, you'll know that freshly popped popcorn is far superior to microwave popcorn. Preparing it on the stove top is delicious and straightforward if you don't want to spend the money on a popcorn machine. It's also far superior to microwave popcorn. Microwave popcorn usually contains artificial chemicals (such as "butter flavor") and is more expensive than popping it at home.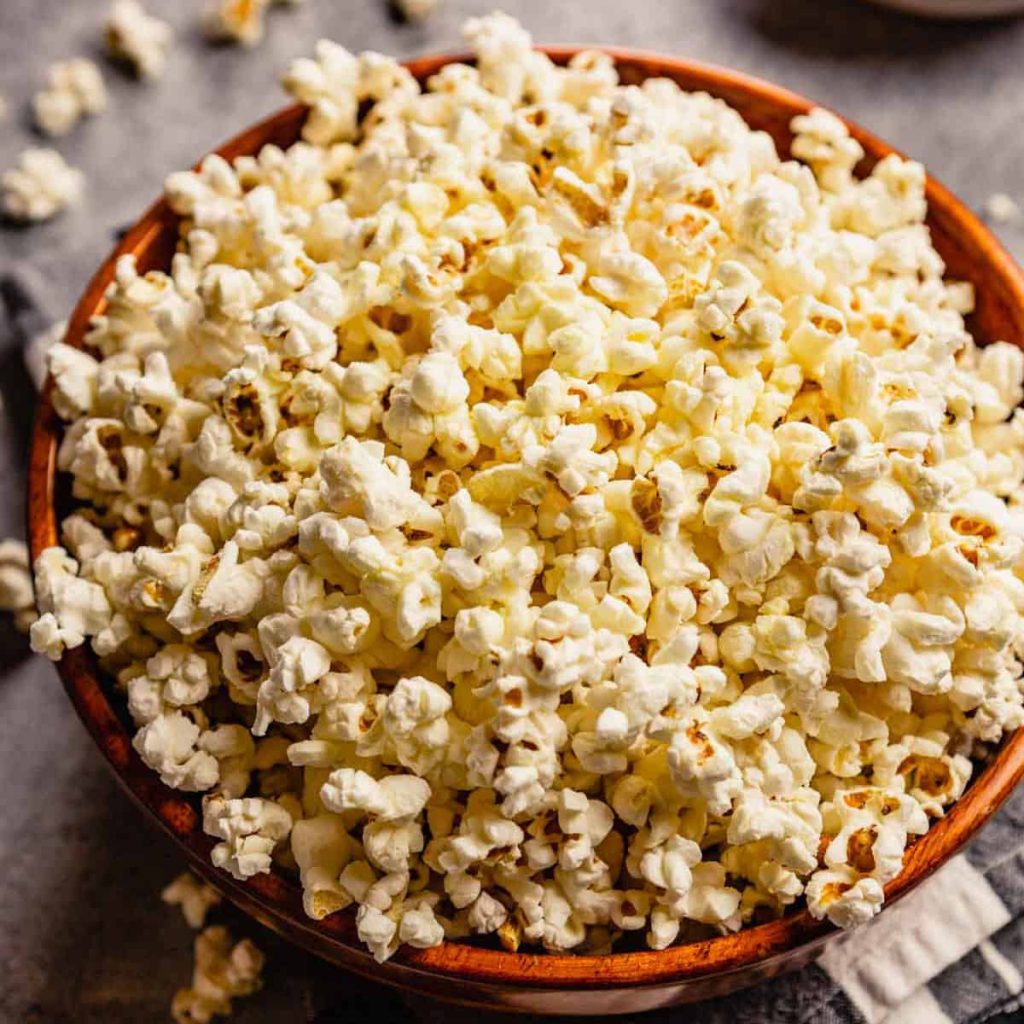 What is the shelf life of freshly popped popcorn?
Popcorn that has just been popped will keep for a few days.
If you have a popcorn maker, you can use the warming plate to reheat it. On the cook top, it can also be warmed. Just make sure the heat is turned down low and that you keep an eye on it.
Of course, you can eat it at room temperature, but it won't taste as nice as freshly popped popcorn. If you aren't going to consume it all at once, store it in a gallon-sized Zip lock bag or other airtight containers.
In a popcorn machine, what is the best oil to use?
The flavor of the popcorn will be affected by the type of oil you use. Canola oil or coconut oil, depending on the flavor you choose, may be the best choice. Canola oil contains less fat and cholesterol, while coconut oil has a more robust flavor.
Experimentation will be crucial.
Sunflower oil, peanut oil, or soy oil are more options.
Popcorn machines are convenient because they do not require a lot of oil. As a result, cleaning them is relatively simple.
Unlike deep fryers, were changing the oil and cleaning the unit can be a hassle.
What kind of oil is used in movie theatres for popcorn?
Every movie theatre cooks popcorn in a unique way. Coconut oil, on the other hand, is frequently used. Alternatively, a mixture of coconut and canola oil and the flavor of coconut oil are the most intense.
Canola, on the other hand, is cheap and flavourless. Coconut oil, on the other hand, if you don't care about cost and want that flavor, is the way to go. But instead of the artificial butter flavor, use real melted butter in the completed product. To make things even easier, grab a can of aerosol butter spray.
What are the prices of popcorn machines?
Popcorn machines, like most home equipment, come in a wide range of prices. Small counter top ones cost between $25 and $50, and Counter top models with the appearance and feel of floor models start at $60 and go higher from there. Like the ones on the cart, these will usually have a tempered glass box and a tilt-out door for serving.
The floor models, sometimes known as cart models, provide the closest feel to that of a movie theatre.
These machines may be purchased for as little as $150 and go up from there. Top-of-the-line devices with authentic-looking features might cost between $250 and $300.
Which popcorn machine is the finest to buy?
The phrase "best" is a subjective one. One person may like a popper that is easy to store and clean. Another person may prefer the romanticism of a classic popcorn machine that transports them to a movie theatre.
I've given a few ideas below that differ as much as the shoppers.
The West Bend 827070B is number one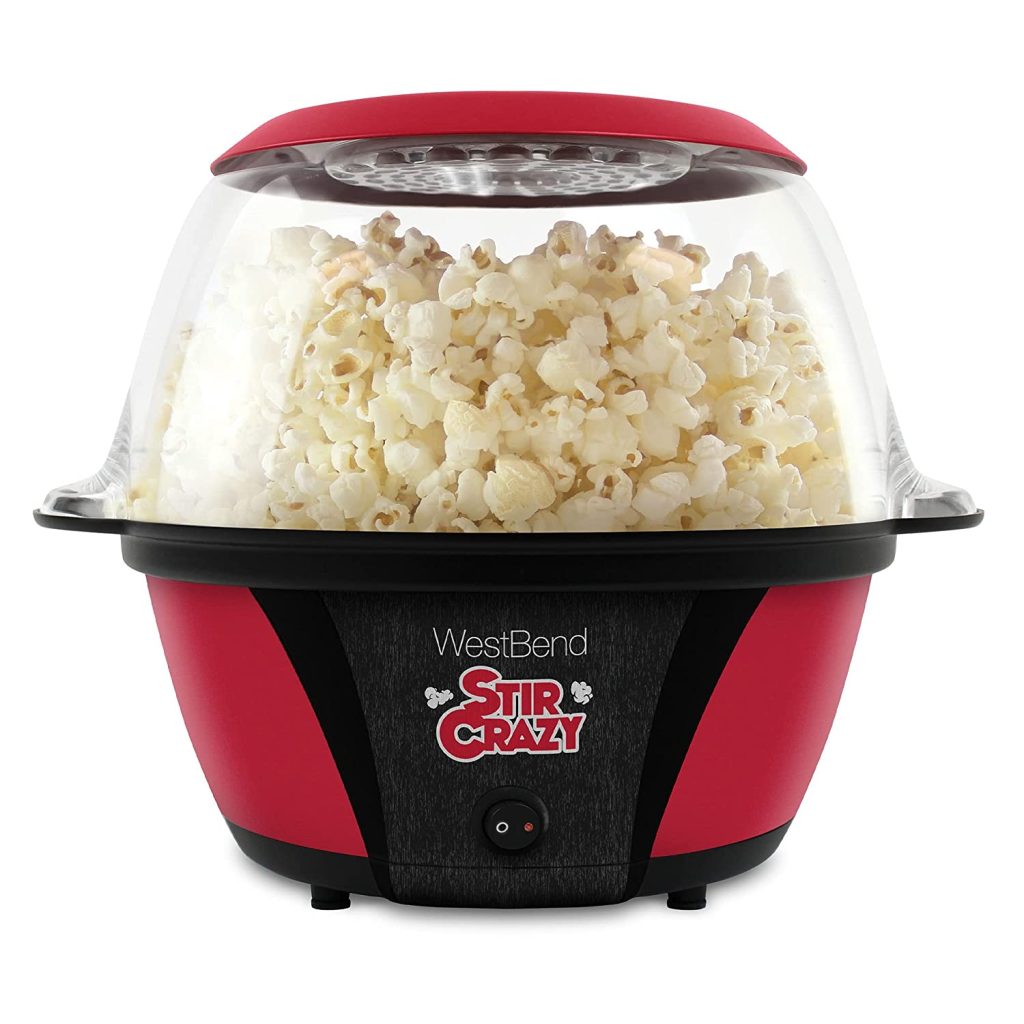 The West Bend popcorn poppers have over 4,000 reviews, with almost all of them being 4 or 5 stars, so you know they're good!
It is a terrific reasonable alternative for families who enjoy popcorn at around $50. In less than 4 minutes, it can pop up to 6 quarts of popcorn. For tiny storage spaces, the base nests inside the lid. Because it has a nonstick plate and a motorized stir rod, more kernels will pop. It's safe to move around because the cover and heating base are aligned.
The cover can also be used as a bowl, cutting down on the number of dishes needed. Did I mention that it has a built-in butter melting feature? It's a fantastic way to enjoy freshly popped popcorn without having to deal with a giant popcorn machine.
The West Bend 82515 Hot Theatre Popper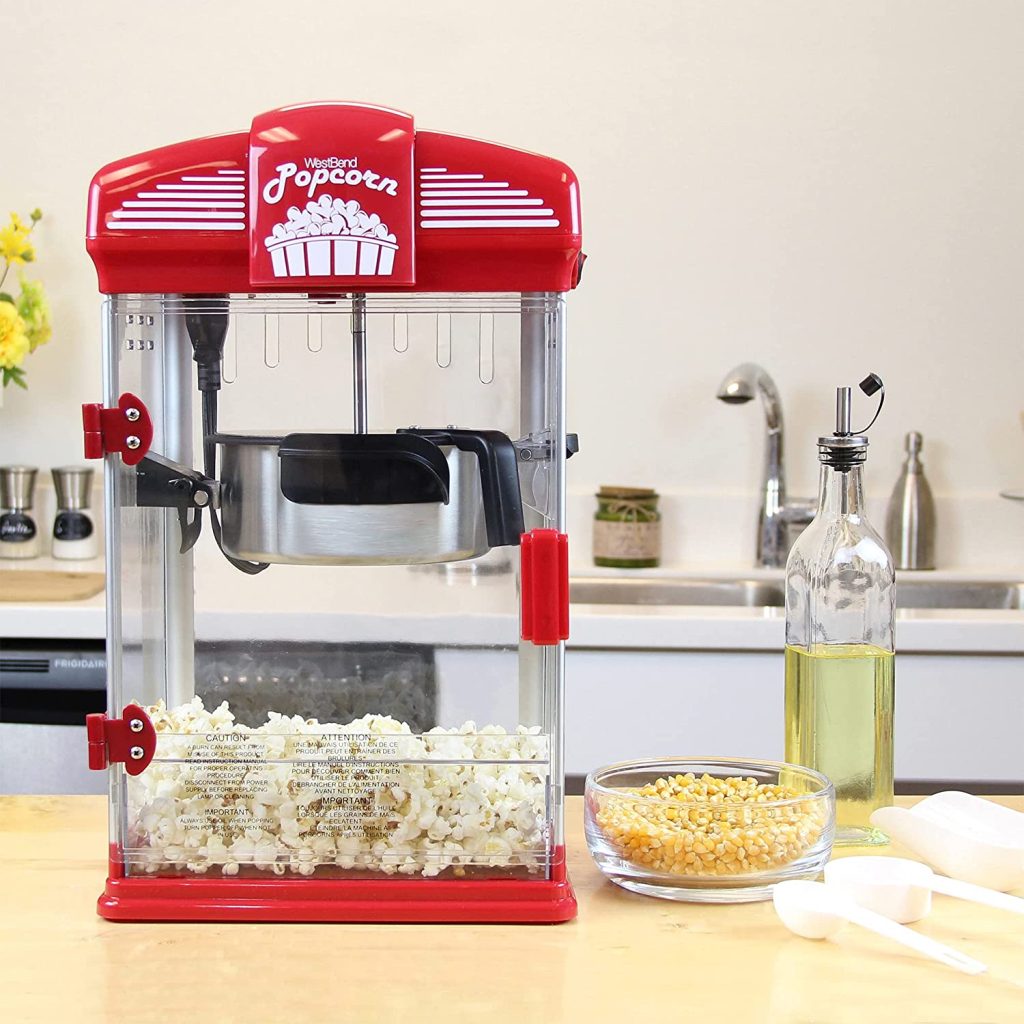 The West Bend 82515 Hot Theatre Popper is an excellent addition to any theatre.
The West Bend 82515 Hot Theatre Popper may be the solution for you if you want the look and feel of a typical popcorn machine but don't have the space for a cart.
This type sits on the counter and contains 4 ounces of kernels. It costs around $60 and is an Amazon's Choice product with practically all 5-star reviews. It's an excellent alternative to the popcorn machine on the cart because of its compact footprint. It has a tilt door for serving and a nonstick kettle that is easy to clean. This is the perfect addition to a large kitchen, or perhaps a really stunning home theatre room, without breaking the bank!
The CCP510 Vintage Professional Popcorn Cart by Nostalgia Concessions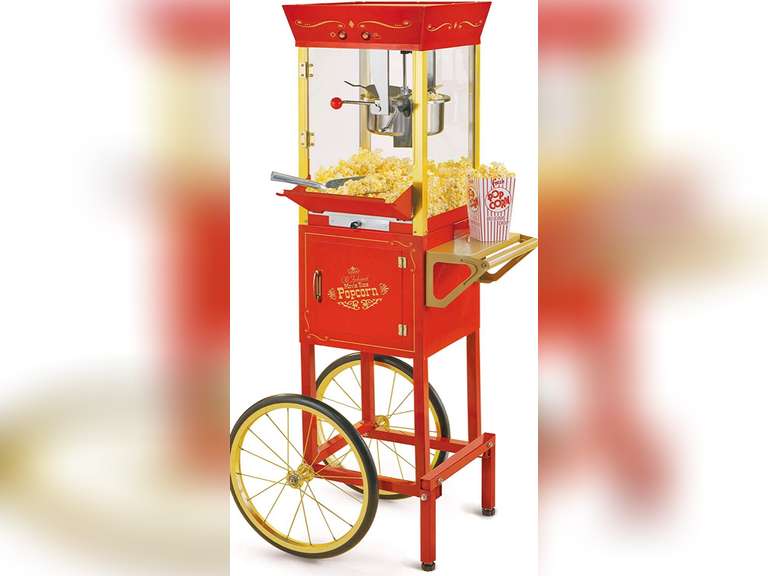 The Nostalgia Concession CCP510 Vintage Professional Popcorn Cart stands 59 inches tall and can pop up to 40 cups of popcorn at once. With hundreds of near-perfect reviews and is an Amazon's Choice product, it has the best ratings of any full-sized popcorn maker on Amazon. This equipment, which costs a little more than $200, completes your home movie experience. It holds 10 ounces of kernels and includes an integrated stirring system to ensure that all of them are popped.
It has a toughened glass window so you can watch it pop and a tilt-out door so you can serve it efficiently. It also features a built-in storage drawer for all of your popcorn kernels and accessories. This is nothing short of incredible! It's also relatively easy to relocate because it has wheels. Did someone mention fresh-popped popcorn for your child's next lemonade stand?
Have I answered all of your popcorn machine-related questions?
This article addressed a wide range of subjects. When it comes to popcorn, nothing beats the movie theatre experience. However, owning a popcorn machine might be really beneficial! I discussed how popcorn machines work and what to look for when buying one in this article. I also discussed which oil to use in your machine and reviewed a few popular machines on Amazon.
Above all, I addressed the topic of whether popcorn machines are worthwhile.