Home »
Farmhouse Rustic Mason Jar Lid Pumpkins Tutorial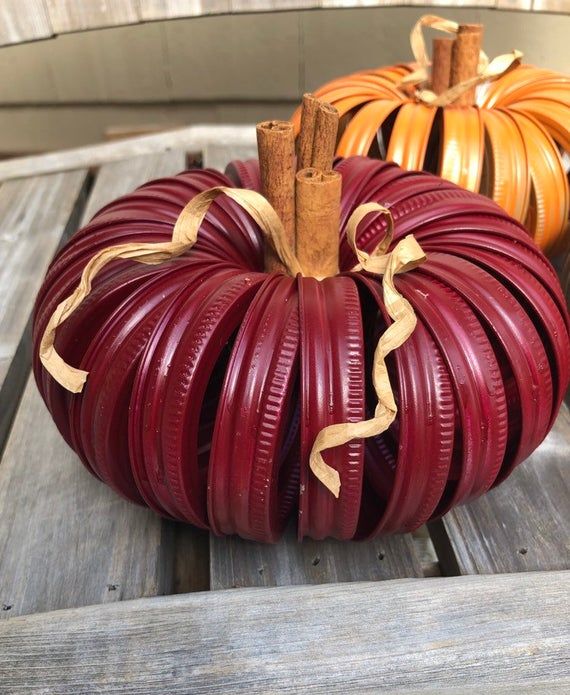 The first official day of autumn starts today! To commemorate the occasion, I created a mason jar lid pumpkin. This festive décor will look great in your home till Thanksgiving and may be reused year after year. By going through, you can learn how to make your own mason jar lid pumpkin.
Materials:
21 different types of mason jars.
Americana Acrylic paint in Jack-O'-Lantern Orange, Pumpkin, and Spiced Pumpkin (how appropriate are those names?)
Faux leaves which have been painted with a paintbrush.
Spray paint in gold.
Clear spray sealant.
Twine or yarn.
To begin, paint all of the mason jar bands oranges. I only painted the top and sides of the bands; I did not paint the insides of the bands. I used three different colors of acrylic paint to produce a light ombre effect, but spray paint may be used to expedite the process. Allow the bands to dry for a few hours before spraying them with a clear sealer to protect the paint. Allow your band to dry for many hours once more.
When you're ready to start building your pumpkin, string all of the bands onto your yarn, ensuring they're all facing the same way. String your rusted mason jar lids on twine. Most crucial, ensure that they are all pointing in the same direction. For this, you'll need about 12 canning jar rings.
Tightly knot the lids together before fanning them out to form a circular pumpkin shape. Make a circle out of your mason jar rings and lay the stick in the center. Then, arrange your rings in a circle to produce the pumpkin's shape. After that, tie a few knots in the twine. Remove the stick and reposition the rings to your liking.
You can decorate with artificial leaves that have been spray-painted gold or cinnamon sticks to make a pumpkin stem in the center.
How cute would a handful of these pumpkins, along with some fall flowers and votives, look on your Thanksgiving table? Have a fantastic first day of fall and happy crafting!