Home »
How to Reheat Apple Crumble? - Step by Step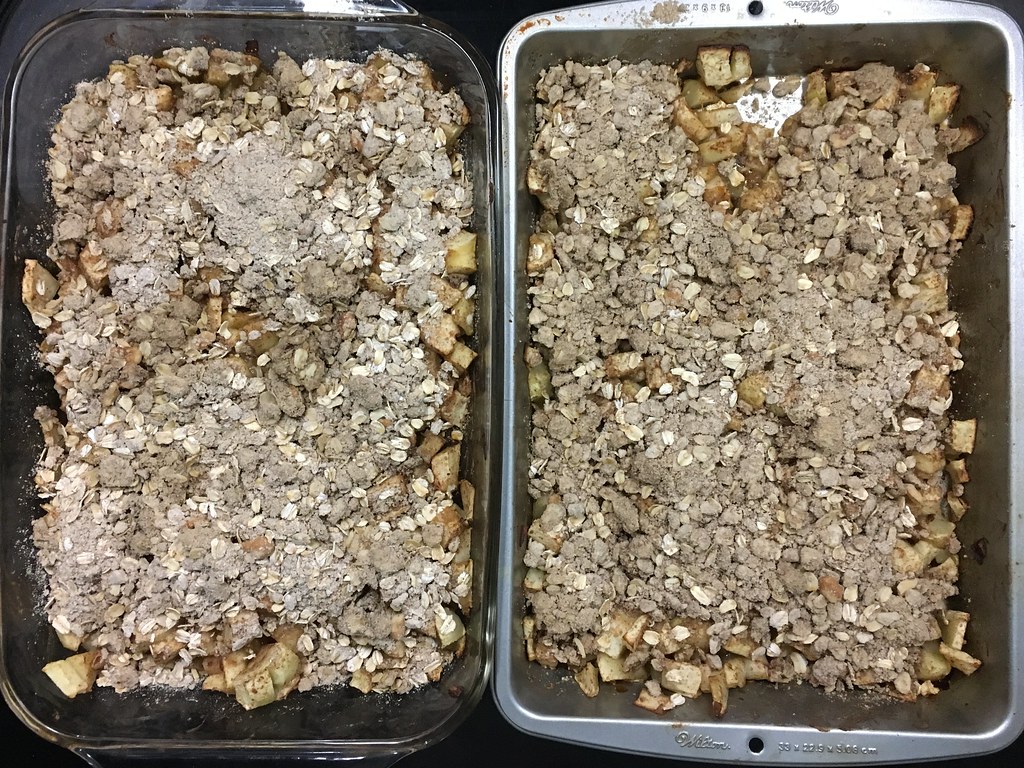 It's the season for apples and baked goods galore. What better way to appreciate it than an apple crumble? Guess what, it doesn't even have to be a certain season to enjoy apple crumble.
That fresh apple crumble baking in the oven smells delicious, and its aroma wafts through the entire house. You can't help but make your mouth water at this delight.
Apple crumble is very easy to make and tastes great. Making a batch of apple crumble can go a long way, and you'll most likely be left with leftovers that need to be stored and, quite possibly, reheated.
How do you reheat apple crumble?
You can heat individual servings in the microwave if you're in a hurry to reheat and eat it or if you don't want to reheat the whole pan. Simply put a portion on a plate and microwave for 30 seconds to 1 minute, until hot. 
Don't worry, it's simple and we're here to guide you through the process from start to finish.
In the following sections, we'll provide you with all the information for storing and reheating your apple crumble. We will share with you the best advice and we will prepare you thoroughly.
Read on to learn everything you need to know about reheating apple crumble.
How to preserve and reheat delicious apple crumble
Apple crumble always tastes best fresh out of the oven, so what better way to enjoy the fresh flavor than by reheating leftovers?
You most likely won't eat an entire apple crumble in one sitting, so you'll need a method to eat it later.
How to make apple crumble
You will be surprised how easy it is to make apple crumble. The hardest thing of all is cutting the apples and that's not really that hard.
If you're really opposed to slicing apples, you can always buy apple pie filling instead.
Although you can buy apple pie filling and take a bit of a shortcut, fresh is always better. Ultimately, the choice is up to you and you can do what works best for you.
Here are some general instructions on how to make apple crumble. 
If you're making it fresh, you'll need apples, sugar, cinnamon, all-purpose flour, lemon or lemon juice, butter, brown sugar, rolled oats, and walnuts or pecans. Nuts are optional, but they add a great punch of flavor.
Preheat oven to 350 degrees
Peel, core, and cut the apples into bite-size pieces
Combine the apples with the sugar, cinnamon, lemon juice and flour and mix everything together
Use a casserole dish or cake pan and prepare it with cooking spray
Pour the apple mixture into the mold
In a bowl mix the oats, cinnamon, brown sugar, flour, cold butter and nuts (optional)
Use a cookie cutter to mix and cut the butter into small pieces into the mixture.
Spread the coverage over the apple mixture
Bake for about 45 minutes - the apples should be bubbly and the topping should be a nice golden color.
Apple crumble is delicious when served hot. you can even add vanilla ice cream or whipped topping to perfect the dessert. You can also serve it cold, but the preferred method for most people seems to be hot.
How to store apple crumble
If you have leftover apple crumble, you need to be able to store it safely until you or your guests can finish it. You can even eat apple crumble for several days as a dessert.
Apple crumble stores well in the fridge and can even be frozen for long-term storage. Better yet, you can make it ahead of time and store it in the freezer before you even bake it, if you like.
Refrigerate the apple crumble
Once the apple crumble is baked, it can be stored in the fridge for about 5 days. It is a very simple process.
Let the apple crumble cool for 2-4 hours.
Cover it loosely with plastic wrap (like this one from Amazon)
Place in the refrigerator up to 5 days
It really is that simple! The fridge is a great option for storing that leftover apple crumble for a short period of time and it's easy to take out and reheat.
Freeze apple crumble
If you're not sure when you'll be able to finish that apple crumble, you can pop it in the freezer, where it'll be safe for several months.
Let the apple crumble cool completely.
Place the apple crumble in an airtight container (something like this is perfect)
Put it in the freezer and store it up to 5 months
If you freeze the apple crumble, you will need to allow thawing time when you remove it from the freezer.
The best way to thaw apple crumble is to take it out of the freezer and let it thaw in the fridge overnight. If you need it faster, you can let it thaw on the counter for 3-4 hours. 
If you freeze the apple crumble, it's important to note that you'll need to thaw it to reheat it or it just won't reheat very well.
Reheat Apple Crumble
The best thing about storing apple crumble is that you can reheat it and enjoy it all over again.
The good news is that reheating apple crumble is just as easy as making apple crumble to begin with, only you can skip the part where you have to cut up the apples and mix everything together.
Let's look at some of the pros and cons of reheating apple crumble.
The benefits of reheating apple crumble
You can enjoy your apple crumble a second time
It is very easy to reheat apple crumble
Reheating the apple crumble tastes just as good the second time around
A great option to use leftovers
You can share leftovers or save them for another time with a reheat method
The Disadvantages of Reheating Apple Crumble
If you have frozen the apple crumble, you will have to let it defrost for a while.
You have to take into account the reheating time, which is about 30 minutes
You may be concerned that the crumble topping will dry out a bit during the reheating process. There are steps you can take to avoid it.
If you haven't read between the lines yet, this is the part where you realize how easy it is to make, store, and reheat apple crumble. Too easy. Don't forget the vanilla ice cream to go perfectly with the warm apple crumble.
Step-by-step instructions for reheating apple crumble
The moment you have been waiting for has finally arrived. Here comes the part where we tell you how to reheat that apple crumble that you have saved. You can always eat it cold if you want, but it is preferable hot.
Here are the instructions for reheating the apple crumble in the oven. 
Preheat oven to 350 degrees
Make sure the apple crumble has had a proper thawing time if it was frozen.
Remove the covering from the apple crumble and make sure it is in an oven-safe dish
To prevent the crumb coating from being dry, you can melt some butter and drizzle it over the crumble. This isn't necessary and may not worry you, but it's a great option if you're concerned about dry coverage.
Heat in the oven for about 30 minutes or until the crumble is hot.
This process is virtually foolproof and will leave you with a delicious apple crumble to enjoy over and over again until it's gone. Then you may have to make another one!
Related questions
We hope you have found this guide useful for reheating your apple crumble. We have included a question and answer section to provide additional information for your reference.
Is an apple crisp the same as an apple crumble?
These terms are often used interchangeably, but they are not exactly the same. The topping of a crisp is usually just a crisp layer. The crunchy layer can be oatmeal or a mixture of oats and nuts sprinkled over the apple filling.
A crumble is more like a streusel. The crumble ingredients are brought together and mixed with the flour, brown sugar, and butter (as well as whatever else is in the mix) and blended into a crumbly topping.
Do I have to use a specific type of apple for the apple crumble?
Most recipes call for delicious red apples, but you can use any type of apple you prefer. Different types of apples may produce a different flavor, but will generally provide the same effect.
Using Granny Smith apples puts an interesting twist on the mix, but it's another delicious option that's definitely worth trying. No specific apple is needed to make a yunmy apple crumble dish.